Petting Farm admission prices and hours
General admission (age 2 years and up) – $8 + GST per person (24months and under is free)
Group/Family rate (6 or more guests) – 10% off
Packages for Birthdays
COME CELEBRATE!
Birthday Parties
FARMYARD FUN
$210/+GST
Admission for 10 children (up to 5 adults free, additional adults pay regular admission)
2 Hour use of the party gazebo
Tables and chairs provided
Access to all barnyard animals and activities
10 cups of an animal treat to feed animals
Additional children $10 per child
Set up and clean up done for you by our staff
PIZZA PARTY
$280/+GST
Same as Farmyard Fun package, plus kids lunch!
Lunch includes 3 large pizzas (choices of cheese, pepperoni, ham, and pineapple)
Juice boxes (choice of apple, orange, and fruit punch) and regular potato chips
Table clothes, paper plates, and napkins included
Additional children $16 per child
---
BIRTHDAY PARTY POLICIES
$100 nonrefundable deposit is required upon booking. The remaining balance is due on the party day.
You may arrive 15 minutes prior to your party to decorate
Bring your own cake and candles (fridge space provided if needed)
Guests must remove personal items from the gazebo immediately at the end of their party time so staff can begin preparing for the next party.
All the clean-up is done for you by our staff
No alcohol or smoking permitted
For the safety of the animals, no balloons or decorations permitted outside of the gazebos
PARTY TIME SLOTS AVAILABLE:
11:00 – 1:00
2:00 – 4:00
Farm Eggs
At Meadows Family Farm all of our hens are free to roam indoors and outdoors where they can peck, scratch, and roam happily all day. With lots of fresh air, clean water, and top quality feed without any antibiotics, medications, or preservatives, our happy chickens give us the most beautiful brown large eggs daily. We are committed to producing quality eggs that taste great! Our eggs sell for $5 a dozen.
Petting Farm
Our farm offers a real educational and interactive experience for children.
Children will get the opportunity to touch and feed the animals by hand.
Watch a mother hen with her chicks, the baby goats jump and play and the alpacas watch everyone with their curious eyes.
At Meadows Family, Farm children get to explore and discover all the different sounds around them on the farm. This may be unlike anything they have ever experienced. Have you ever heard the unique sound of a donkey braying? You will hear it as the donkeys get excited when they see you coming.
This closes up interactive experience with the animals is very exciting for children and even adults, as you watch them discover their favorite animal.
Children will also discover so many textures on the farm. From the soft alpaca fleece to the coarse pig hair and even the wet grass and dry hay, there are things to touch and learn all around them.
We have picnic tables available for your lunch or snack, and our giant sandbox will be perfect for anyone full of energy.
We can't wait to welcome you here!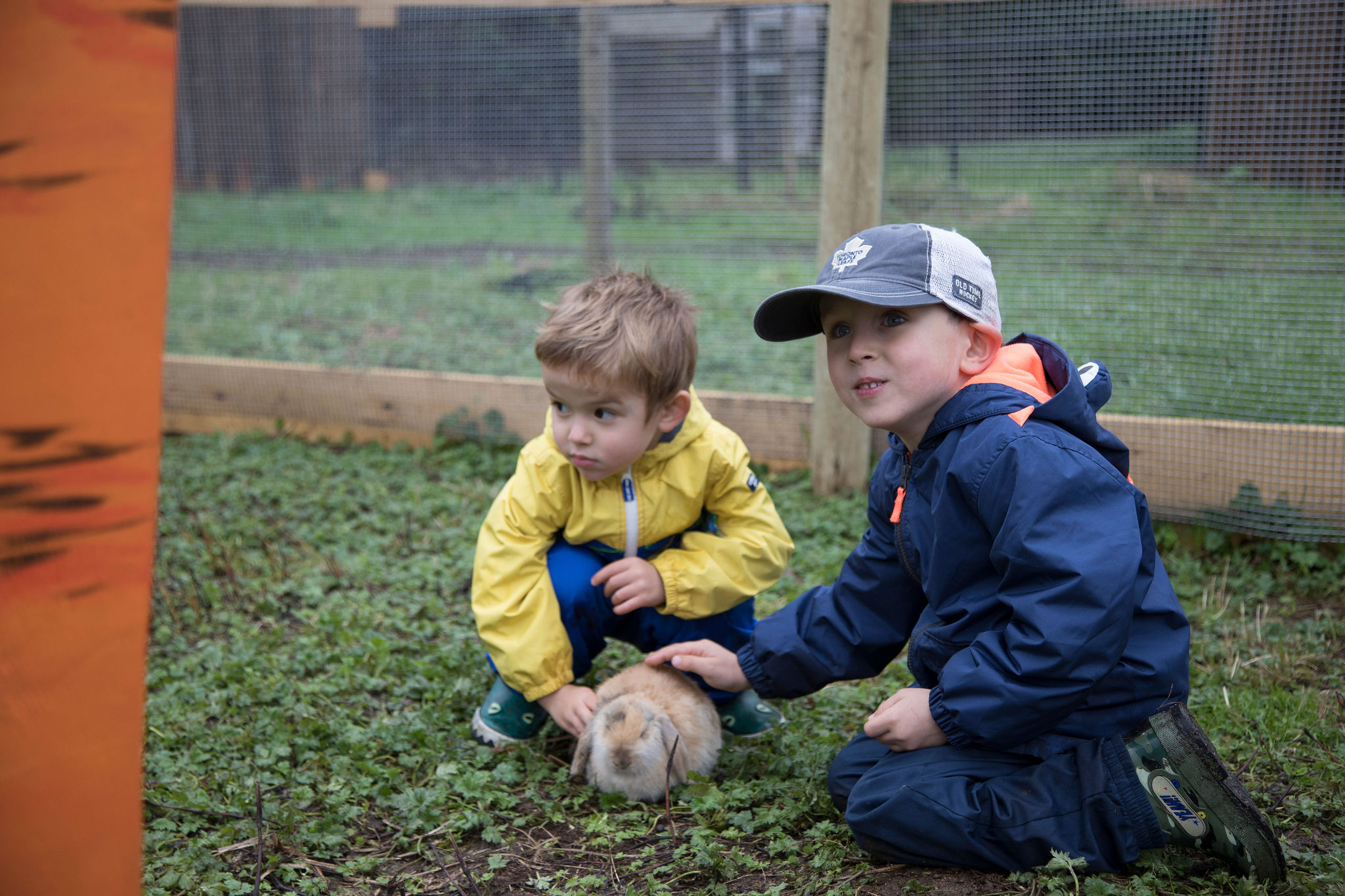 We have people visiting from Maple Ridge, Langley, Surrey, Mission, Vancouver, Richmond, Burnaby, Coquitlam, Abbotsford, Langley Township, Port Coquitlam, Chilliwack, Pitt Meadows, and the surrounding areas.